【Pictures】 Panel on Taiwan's International Participation
In collaboration with National Chengchi University (NCCU)'s Department of Diplomacy, Center for Foreign Policy Studies of NCCU College of International Affairs and NCCU's Vincent Siew International Exchange Program, the Association of Foreign Relations (AFR) co-hosted a panel on "Taiwan's International Participation" in Room 103, North Wing of General Building of Colleges located in NCCU on the afternoon of March 18, 2016 from 2 to 4 pm.

Mr. Jason Chien-Chen Lien (連建辰), Deputy Director-General of Department of Treaty and Legal Affairs, R.O.C. Ministry of Foreign Affairs and Dr. Stacy Closson, Fulbright Scholar of Department of Diplomacy, NCCU were the speakers while the panel was moderated by one of AFR's board director Ambassador Benjamin J.Y. Lo (羅致遠).
▲(from left to right) Mr. Jason Chien-Chen Lien (連建辰), Deputy Director-
General of Department of Treaty and Legal Affairs, Dr. Stacy Closson, Fulbright
Scholar of Department of Diplomacy, and Ambassador Benjamin J.Y. Lo (羅致遠)
▲Professor Alex Chia-Hsiung Chiang of Department of Diplomacy, NCCU, introduced the moderator and speakers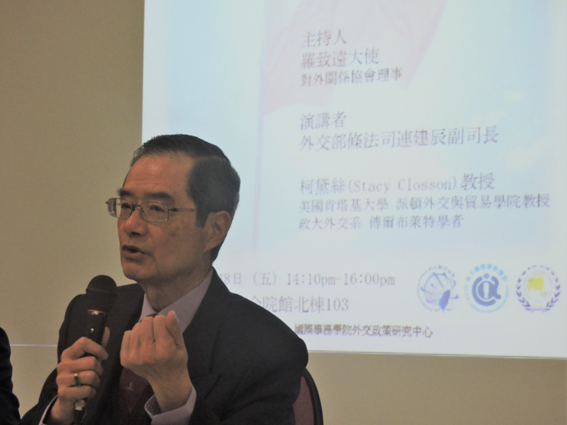 ▲Moderator Ambassador Lo opened the panel by introducing the current situation of Taiwan's international participation, stressing the need for Taiwanese citizens to do the right thing and do what your country needs you to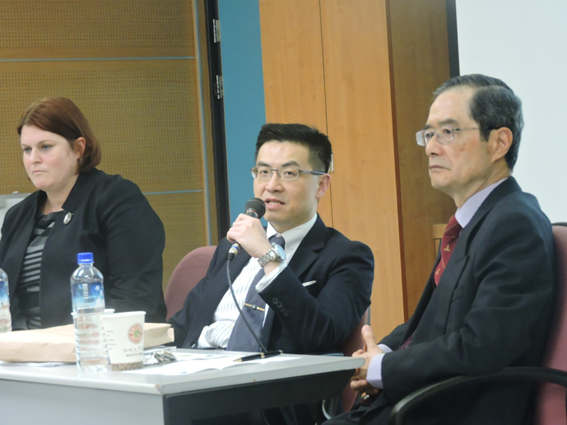 ▲Mr. Lien believed that everyone is an essential part of the international community. By giving an example on how Taiwan can actively participate in the United Nations Framework Convention on Climate Change (UNFCCC), He mentioned Taiwan's responsibility for developing a more sustainable economy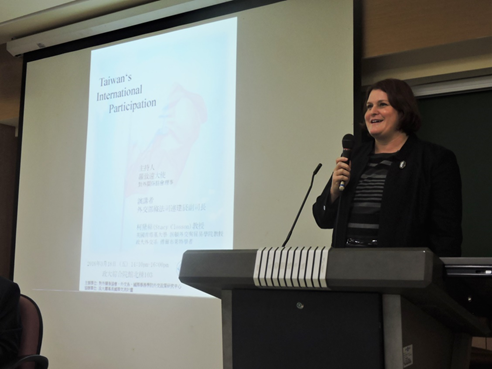 ▲Dr. Closson elaborated on the different aspects of Taiwan's soft power which has been greatly shown in fields such as disaster relief, national health
insurance, promotion of human rights, disputes settlement, economic development and entrepreneurship. She then ended the discussion with a hopeful remark that Taiwan should strive to become a role model for the international community by taking its geopolitical advantages and having good trade relations with other countries