AFR visits UMD East Asian Legal Studies Program
The Association of Foreign Relations (AFR), jointly with the Center for East Asian Policy Studies at Brookings, organized a seminar on US-Mainland China-Taiwan trilateral relations in Washington D.C. on September 12, 2014.
The AFR delegation to the US, led by Dr. Kwei-bo Huang, AFR secretary-general, and Dr. Chien-min Chao, chair of Chinese Culture University's Graduate Institute of National Development and Mainland China Studies, was comprised of local scholars and experts including Dr. Kao-chen Wang, dean of Tamkang University's College of International Studies.
On September 10, 2014, the AFR delegation visited University of Maryland (UMD)'s East Asian Legal Studies Program (EALSP) and was received by Dr. Michael Van Alstine and Dr. Chih-Yu T. Wu, EALSP director and association director. They all expressed high esteem for Dr. Hung-dah Chiu's, honorary professor of UMD Francis King Carey School of Law and former Minister without Portfolio of ROC Executive Yuan, hard work and contribution to cross-Strait relations.
Legal opinions and perspectives regarding ROC President Ma Ying-jeou's policy of "mutual non-recognition of sovereignty and mutual non-denial of governing authority" between the two sides of the Taiwan Strait were discussed as well. In addition, they touched on how the use of political ambiguity in the concept of "one China with respective interpretations" could stabilize the relations and lay a solid foundation for future engagemen between two sides of the Taiwan Strait. After the meeting, the AFR delegation visited the EALSP office, library and moot court rooms.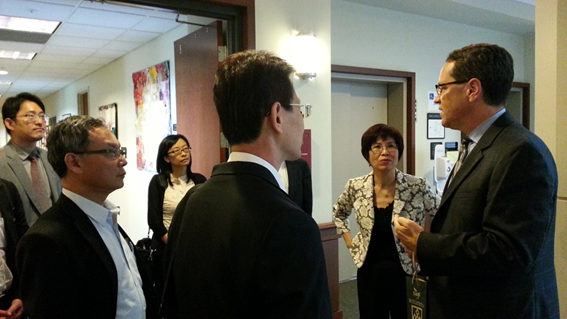 ▲EALSP professor and director Dr. Michael Van Alstine (first from right), EALSP associate director Dr. Chih-Yu T. Wu and AFR delegates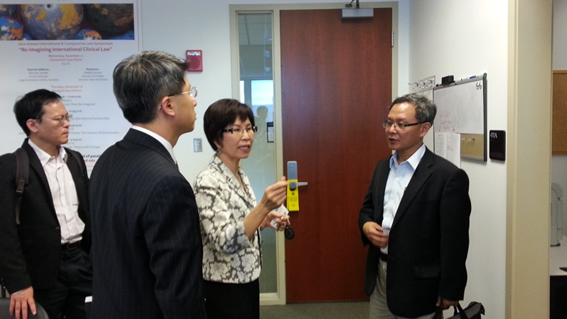 ▲EALSP associate director Dr. Chih-Yu T. Wu (second from right) and AFR delegates