Panel with Vietnam Academy of Social Sciences - Institute of World Economics and Politics
A delegation of 8 from the Vietnam Academy of Social Sciences - Institute of World Economics and Politics(IWEP), led by Dr. Vo Dai Luoc, former advisor to Vietnamese Prime Minister and former IWEP director, visited National Chengchi University (NCCU) and attended a panel on campus on April 25, 2107. The panel was co-organized by the Association of Foreign Relations (AFR) and NCCU Graduate Institute of East Asian Studies.
Dr. Kwei-bo Huang, AFR Secretary-General and NCCU associate professor of diplomacy, delivered welcome remarks. Other attendees included Ambassador David Chien-kuo WU (former ROC Representative to New Zealand & former Director General of Taipei Economic Cultural Office in Ho Chi Minh), Dr. Chiung-chiu Huang (associate professor at NCCU Graduate Institute of East Asian Studies), Dr. Chyungly Lee (research fellow at NCCU Institute of International relations), Dr. Chih-yu Shih and Dr. Chen-Dong Tso (professors of politics at National Taiwan University). Graduate and doctoral students from NCCU Graduate Institute of East Asian Studies were also present at the meeting.
The Vietnamese delegation visited Taiwan to undertake academic exchanges, discuss hot-spot issues in current international relations, understands Taiwanese scholars' perspectives, and learns from Taiwan's economic achievement and experience. The participants of the panel held lively discussions and exchange ideas on topics such as Sino-US relations, cross-Strait relations, current developments in East Asia, challenges and opportunities of Mainland China's economic development, and Mainland China's foreign policies.
"Taiwan, with a firm background in research and extensive experience with Mainland China, is indeed a great source for the Vietnamese government to consult and learn from," Ambassador David Chien-kuo Wu said.
"Mainland China's One Belt One Road initiative is designed and launched with its own national development in mind, the Vietnamese government will examine the initiative carefully before making a decision on joining it" Dr. Vo Dai Luoc said. "It is also advised that the Taiwanese government does the same in the case of further cooperation with Mainland China." In the panel, viewpoints were shared, a deeper understanding is reached and possibilities of future academic cooperation and exchanges were discussed between the Taiwanese and Vietnamese academic circles.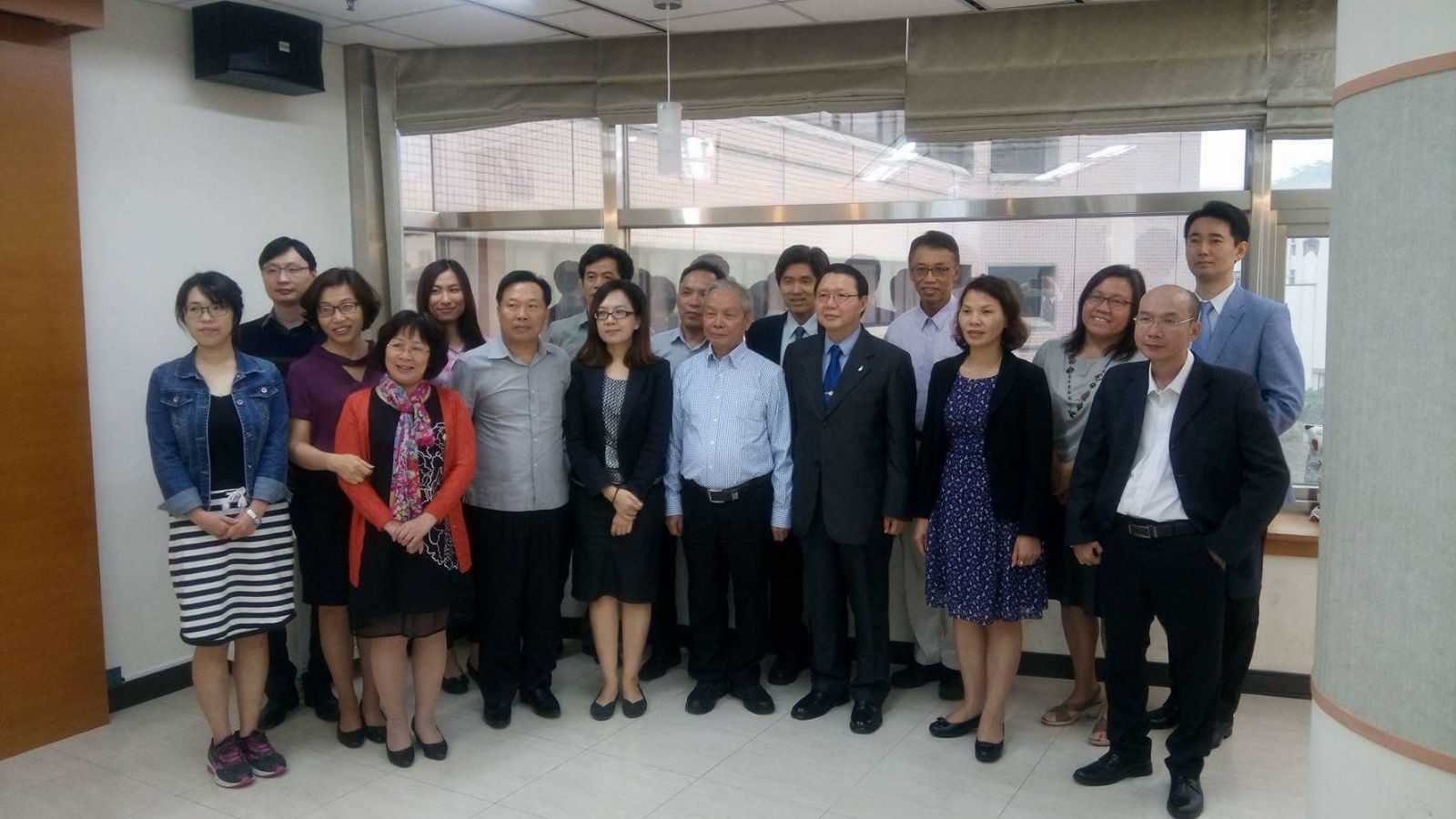 Back row: Dr. Kwei-bo Huang (first from right)
Front row: Ambassador David Chien-kuo Wu (third from right), Dr. Vo Dai Luoc (fourth from right), Dr. Chiung-chiu Huang (fifth from right)